About us
A philosopher and a coach together — is this possible? Yes, and how much! Because philosophy and personal development have so many things in common! Both are individual but global, and both have to do with the search for meaning and further development.
We focus on similarities because we manage not only our business in partnership but also share our lives.
The love of philosophy has united us from the beginning, as does the enthusiasm for people and lifelong learning. Philosophy and never-ending learning led to our motivation for coaching, consulting, and lectures so that everyone could benefit from sustainable achievement and development.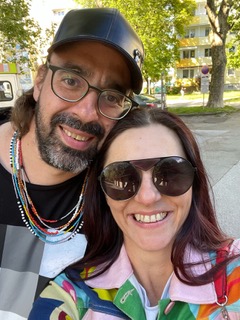 Michael Matzer is a "philosophy punk" who has worked as a philosopher at the University of Graz for many years. After a detour into software development, the time has come for philosophical practice. Advice in all questions of life and philosophical lectures has been the motto ever since. In addition to his activities as Managing Director of life-connect GmbH, Michael continues to teach logic and various classes at the University of Graz. Furthermore, he programs computers in his spare time and likes to study. He guarantees stability at life-connect.
Kerstin Hernler studied law and philosophy at the University of Graz. After many years of working in compliance, she realized that working with people is more important to her. In addition to her life and social counselor training, Kerstin has completed several internationally recognized coaching training courses to provide the best possible support to people in all situations, whether in the event of crises, decisions, or changes. She loves change and is the creative part of life-connect.
The values that guide our work
Our credo: Individuality and creativity lead to authenticity. Monotonous all-purpose solutions are not our because, most of the time, these products are short-lived anyway. Therefore, exclusive sustainability is essential to us in every respect.
We want to enable our customers to develop independently with our programs and offers. Our offers reflect our uniqueness. Our vision combines mind and soul so our customers can achieve lasting success.